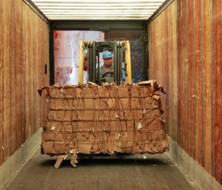 Brokerage Services
Marketing your recyclables through First Star Recycling's Mill Direct Services will save your business or community freight and handling expenses while getting the most reliable service and competitive pricing.
Requirements for Mill Direct Services
Ability to produce mill ready bales (bales weighing 800 lbs or more)
Storage of 40,000 pounds or more of homogeneous materials
Ability to load semi van or flatbed trailers
Click Here
to contact First Star Recycling about arranging mill direct sales for your organization. Or call 1-877-234-7782.