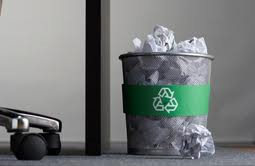 Office Recycling
Fact:
the average office worker generates over 5 pounds of recyclables every week. Boost your office recycling program with the Star Recycling program by First Star Recycling.
As a Star Recycling participant your office will receive a thorough review of current recycling practices and valuable insight on recycling improvements.
Who is Star Recycling good for?
All office sizes, 1 to 10,000 employees
Printers
Manufacturers
Churches
Schools
Any place recyclables might be generated
Commonly accepted items include:
Copy paper
Color paper
Bags of shredded paper
Envelopes of all kinds including windowed and colored
Newspaper
Magazines
Catalogs & Phone books
Cardboard boxes
Plastic beverage containers
Metal beverage containers, Aluminum cans and aluminum bottles
Plastic food containers
Books
And much more
Click here
to contact First Star Recycling about starting a Star Recycling program for your organization. Or call 1-877-234-7782.