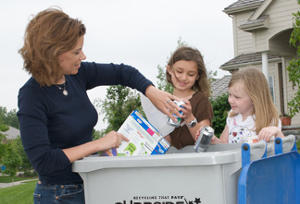 Residential Recycling
Recycling at home is made easy with First Star Recycling's single stream recycling. You can recycle paper, plastics, cans, cardboard and more all in one bin or cart!
Recyclables collected at the curb by your refuse company or municipality can be delivered to First Star Recycling. Once at First Star Recycling, your recyclables will be sorted and prepared for reuse.
Want a 2-wheeled cart for recyclables and earn rewards?
Check out one of our local curbside recycling services for your home:
Curbside Rewards
for the Omaha metro area
RecycleLink
for the Lincoln metro area
RecycleBank
Rewards offered for the above two services
Looking for information about the Green Bin service?
Recycle Omaha
for Omaha's city provided recycling service
First Star Recycling processes the recyclables from all three residential programs!
For a tour of our facility, call us at 402-894-0003.